.....................................................................................Office: 203-909-6225 Fax: 203-347-5699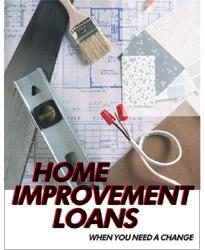 Home Improvement Loan Information
When shopping for a home improvement loan, you have to consider everything from what renovations or additions are needed to how much money you need to borrow. Call Ron Wells he can help you in making your decisions, Ron will talk openly and honestly with you about home improvement loans and help you find
the best home improvement loan for your situation.
It is often more cost efficient to improve your home to fit your needs rather than sell and buy a new home. With Wells Construction you can convert your attic, change your basement into bedrooms or add a new bathroom. Home improvement loans are usualy for these improvements.
Home improvement loans are a wise choice for investing in your home. You are basically taking your equity and putting it towards your improved home. Improvements benefit both your family's quality of living and increase the value of your property.
Here are we have averaged the top one-year returns on improvement investments. If you add a second story addition, you will receive a return of 83% on your investment. For example, if the addition costs you $100,000, when you sell the home, the investment adds $83,000 to the value of your home.
Other returns include:
- Family room addition at 75%
- Major kitchen remodel at 71%
- Minor kitchen remodel at 88%
- Bathroom addition at 81%
- Bathroom remodel at 81%
- Deck at 55%
Remember honest, prompt, and reliable, what else could you ask for?


Home Refinance Information
What happens when you refinance? The rate of interest is determined by the prevailing market conditions. When interest rates vary, the Federal Reserve reduces interest rates. And this interest rate is lower than the interest rate at which you purchased your house originally.
When the Fed cuts rates, you can avail a lower interest rate instead of the existing higher one by refinancing. Consequently, you also enjoy a lower monthly payment. How are you benefited? Your house is your biggest asset. You can tap the equity in your home, refinance and avail a loan that has a lower interest rate. You can use the cash/equity for your home improvement project.


Office: 203-909-6225 Fax: 203-347-5699
Copyright 2009, Wells Construction llc. All Rights Reserved.